A "check in post" to let you know what we and the town have been up to.  To start, we are humble, proud, and stoked to have won Best of Boston Best Inn/Hotel on Martha's Vineyard!!!!!!!!
It was a wonderful surprise at the beginning of the season!  We would also like to congratulate the other Martha's Vineyard winners, The Scottish Bake House for best take out brunch and The Fish House for best seafood!!!  We also got written up in Travel and Leisure magazine and Conde Nast .   Full disclosure, Conde Nast goofed and added a zero on the buy out price for the inn, but we are rolling with it.  We also had an amazing drone video made of the inn and town by our friend Marc Fairstein of Ozora Inn DroneVideo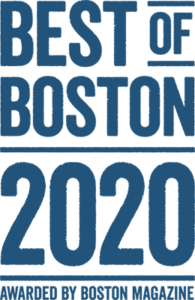 We have been keeping the music alive at the inn!!  We have had three performances by various musicians at The Inn.  The Tower Jams was an idea we came up with so that live music and life can be felt again in town.  Or as Robert Hunter of The Grateful Dead wrote "let there be songs, to fill the air!"   First, we had a regular from our annual MV Skatepark benefit party, Steve Tully, play his saxophone from our tower.Steve Tully Video
Randomly, we met our new friend Matrick who was kind enough to play cello in our second Tower Jam.  Hearing Kashmir by Led Zeppelin rain down around town was inspiring
Most recently we had the pleasure of Gian Carlo playing on our porch.  Hailing from Puerto Rico, his Latin Flair was on full display for guests and those passing by.  Check out the video to hear the action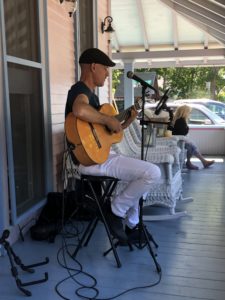 The guitars and mandolin are still here for the playing.  One night two separate guests played this beauty on our porch Midnight Porch Jam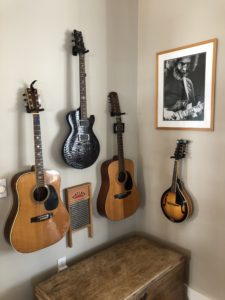 On to our neighbor across the street, The Sweet Life Cafe  Best of Boston 2019 winner of Best Restaurant on Martha's Vineyard.   Owned by couple Hal and Erin Ryerson, he is the chef and she runs the front of the house.  They underwent a major renovation two winters ago making the inside dining room much more inviting   The new open layout of the restaurant allows for a much more inviting room. The "Obama Table," the small service bar, and main indoor dining room are now one. A beautiful 14 foot copper topped bar with 8 seats greets you as you walk in.  Unfortunately, most of this is closed due to COVID, fortunately, their patio and porch dining area is still awesome.  Plenty of space and moving air to enjoy a romantic dinner.  If you're sitting on our porch and don't feel like getting dressed up for dinner there, The Sweet Life Cafe is more than happy to bring take out dinner to you.  You can also choose a bottle from their awesome wine list or have the dreamy bartender Zac mix you up one of his signature cocktails.  The covered patio is also available for private parties, rehearsal dinners and weddings.  A group of seven rooms from the inn, including the bride and groom, recently had their wedding and reception there and said it was fantastic!!  They are open for dinner five nights a week with brunch served on Sundays 11-3, closed on Mondays.  Planning on staying open to at least New Years Eve and hopefully year round.