After twenty wonderful years as the proprietors of the OB Inn, we're finally coming of age! What happens when an Inn turns twenty-one? Well, it's probably not as festive as a night out in Oak Bluffs, but if you're an Innkeeper it's an excuse to renovate!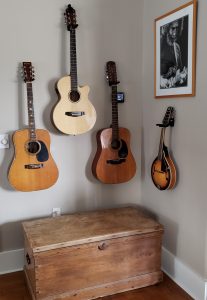 As a little birthday present for ourselves and our guests, we've made a number of substantive changes! All of the common areas and many of the guest rooms have been refurnished with a cleaner, neutral palette. New Mill & Mason bistro tables have been planted in the dining room. Erik's guitars have finally found a home! And, as you may have noticed, the website is new and improved – complete with this wonderful Blog!
New and improved is good, but there are some things we aren't going to change, even though we're grown-ups now. In addition to our new look you can look forward to these OB Inn staples:
Free Cookies: Not just any cookies. Erik makes the cookies every day with tender love and care.
OB Inn Lemonade: Our famous lemonade will be on tap again this season. P.S. When it gets cold, Erik's been known to put out the hot apple cider (with rum.) Yum.
Erik and Rhonda: Yes, we're still here!!
The Porch: The Ob Inn wouldn't be the OB Inn without our exquisite wraparound porch. The porch has been painted and the big wicker chairs (with comfy cushions) are waiting with open arms!
Port and Sherry: Still here. Still included.
Beach/Backyard Bonfires (conditions permitting): Everybody loves a good fire. We'll bring the chairs, the beach, and the hearth – there's nothing like burying your feet in the sand and staring at the Vineyard stars!
To our returning guests, we can't wait to see you! If this is your first time, we look forwarding to welcoming you into the OB Inn family! (Don't worry – there's no initiation ritual.) Okay, our Internet guy says that this Blog is getting too long so signing off for now. Hello 2019!!
Erik and Rhonda Albert -Innkeepers